It's Memorial Day weekend and most retailers aren't shying away promoting new sales on their latest laptops; so we're going to list the best discounts we found(in no particular order) from across the web.
          With so many sales and discounts going around, we'll list the best we found across a few different categories and help you narrow down the best laptop for you.  
The Best " I just need it for email & browsing" Laptop
When you're in the $200 range for a laptop, you basically need something that can let you write resumes, access facebook, and watch some netflix. 
Look no further. 
Specs
Processor: AMD A6-9220e
Graphics: AMD Radeon R4
RAM: 4GB
Hard Drive: 64GB eMMC Flash Memory
Screen: 14″ 1366 x 768 HD
Overview       
        This is your on sale, no frills, great for grandma, laptop. it's lightweight (3lbs), thin (.78″), and just enough space to fit a few photos and videos and some programs (64GB eMMC Memory). For extra storage and a great backup, toss in a 4TB External HD and you'll have more than enough storage that you can access quickly (USB 3.0). 
With a laptop like this, you really just want it to turn on quickly and last all day on battery, and that's exactly what you get.
Budget Gaming People's Champion
If you're on the lookout for a budget gaming laptop, then look no further.
With decent overall specs, the FX505DT will cover most games with good details & framerate.
Specs
Processor: AMD Ryzen 7 3750H
Graphics: Nvidia GTX 1650
RAM: 8GB DDR4
Hard Drive: 256GB PCIe SSD
Screen: 15.6″ 1920×1080 FHD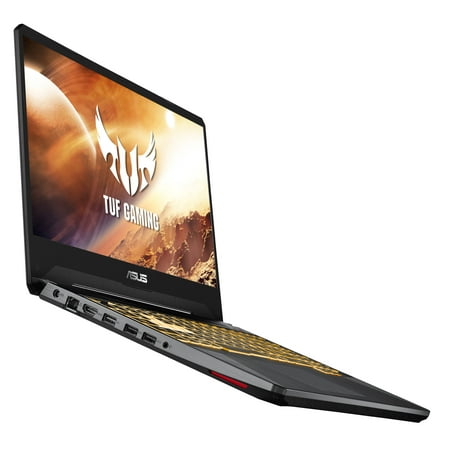 Overview       
        When it comes to finding a great laptop under $1,000, there are a few sacrifices you'll have to make to get a decent computer. 
        Weight. If you want a cheaper laptop with good specs, weight tends to go out the window and it's the same here. Coming in at 4.85lbs and 1″ thick, this is quite a hefty laptop but not the end of the world.
        As with any gaming laptop, you'll have to keep in mind that playing Call of Duty is going to drastically cut down your battery life, but this is a given. 
        Being only 8GB, you're really not getting that much out of it, so an easy recomendation is to upgrade to 16GB of RAM with a second 8GB stick. It's not too expensive, and is probably the best cost/improvement ratio to speed up your system. 
            Not sure how long a deal like this is going to last at walmart (or how long supplies will last) but if you're in the market for a well spec'd gaming laptop with the ability to upgrade a bit, this is the one. 
Quality Without Insane Pricing
The Asus ROG Zephrus is a great overall gaming laptop without the insake $2k price tag going around.
        In fact, its basically half that price with the current promotion running for $150 off!
Specs
Processor: AMD Ryzen 7 3750H
Graphics: Nvidia GTX 1660Ti Max-Q
RAM: 16GB DDR4
Hard Drive: 512GB PCIe SSD
Screen: 15.6″ 1920×1080 120Hz FHD
Set Lowest Price Alert
×
Notify me, when price drops
Set Alert for Product: ASUS GA502DU - 15.6" FHD - AMD Ryzen 7 3750H - NVIDIA GTX 1660 Ti Max-Q - 16GB - 512GB SSD - $945.00
Overview       
        Compared to the previous budget laptop, the Zephyrus has a better GPU with the GTX 1660Ti Maz-Q, 16GB of RAM, and a 512GB SSD.  
        For about $300 extra you're getting quite an upgrade although the CPU is the same and the screen is slightly better. If you're looking to do some heavy gaming, it's definitely worth it.
        With an increase in price, also comes an increase in portability. Still on the heavier side at 4.63lbs and .78″ thick, it's not too bad in terms of the power you'll be getting from it. 
        So if you're looking to get a new gaming laptop that can handle modern games at high quality and good framerates, this is a great deal to jump on this Memorial Day sale. 
Swiss Army Laptop
Not sure if you want a laptop or tablet? Why not settle for the best of both worlds and take $200 off while you're at it! 
The HP Envy provides quality, speed, and portability all in one and seamlessly switches from laptop to tablet. 
Specs
Processor: Intel 10th gen i5-1035G1
Graphics: Intel UHD Graphics (integrated)
RAM: 8GB DDR4
Hard Drive: 256GB PCIe SSD
Screen: 15.6″ 1920×1080 FHD Touch Screen
Set Lowest Price Alert
×
Notify me, when price drops
Set Alert for Product: HP - ENVY x360 2-in-1 15.6" Touch-Screen Laptop - Intel Core i5 - 8GB Memory - 256GB SSD - Natural Silver - $679.99
Overview       
        Having the versatility to switch between using a laptop and a tablet to maximize function is great for those who have both or thinking to upgrade. You now only have to carry one device that can serve 2 purposes. 
        The thing is, nobody wants to sacrifice quality for function because if it can't work the way you need it to, what's the point.
        With this 2-in-1 you won't have to worry about losing speed or power. a 10th gen i5, 8Gb of RAM, and a 256GB SSD, you'll have the speed when you need it.
        In laptop mode, you'll be able to play some pretty decent, light gaming, as well as photo/video editing without an issue. 
        Having a FHD touchscreen will make tablet mode beautiful and simple to use with great visuals. 
        Overall, this 2-in-1 works great for most every situation. Especially someone on the fence about getting a laptop or tablet.
Porque no los dos?